A seamless approach to HubSpot onboarding
The HubSpot ecosystem is continually growing with an ever-expanding number of features across the five hubs. It's an incredibly exciting, transformative software but can also be overwhelming. In our experience, trying to get to grips with all of HubSpot's tools at once is a bit like trying to eat a three-course meal in one bite! It causes pain and isn't advised!
We narrow down your onboarding projects into manageable chunks that are 100% focused on your objectives.
The

three-step

process to HubSpot onboarding
In our three-part HubSpot onboarding process, we work with you to understand your business objectives and prescribe the features that will deliver you the most value. Together, we'll then identify your top three HubSpot objectives which will form the basis of your onboarding.
This is all done before you purchase your HubSpot licence so you save money and only pay for the hubs you'll be using. Oh, and it'll only take 60 - 90 days from start to finish!
You'll work with an experienced HubSpot specialist throughout the project. You can choose whether to use them just as a guide to keep you on track while you onboard yourself or as an extension of your team to assign parts of the onboarding work to.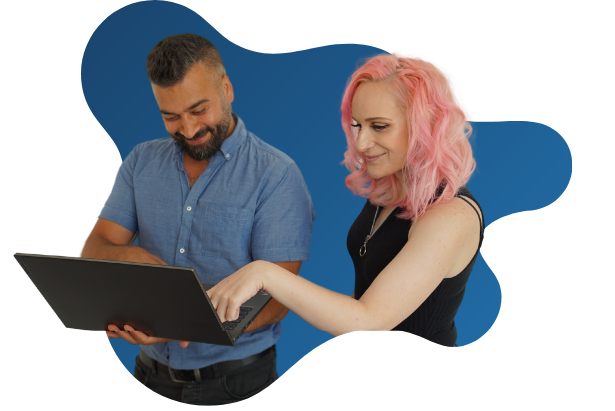 What happens after onboarding?
Once you have completed the three-phase onboarding process, you'll have access to HubSpot's fantastic support team and academy. If you would like further support, you can continue having access to our team of experts in a format that best suits you. This might include:
a long-term growth plan to help you continue getting the most from HubSpot.
A HubSpot Guide For Tech Companies
The guide you need to transform your tech business with HubSpot.
The Ultimate HubSpot Guide For Manufacturers
HubSpot for manufacturers
Peace of mind that implementing HubSpot is the right thing to do.
Why use a HubSpot partner for onboarding?
HubSpot offers direct onboarding for all its products. But onboarding with HubSpot directly means you may not get as much support as you would with a HubSpot Partner. You also won't get the tailored approach our objective-based onboarding provides.
Onboarding directly with HubSpot usually includes weekly calls with a member of the HubSpot team where you'll be set homework to complete for the next call.
Onboarding with a HubSpot Partner means you get more hands-on support and have less homework to do yourself.
Having the support of a partner that has helped onboard businesses just like yours means you can have peace of mind that the process will be seamless and nothing will be missed.
Can I onboard onto all of HubSpot's features at once?
To onboard any business onto all the features in any hub at once would be a rookie move. This often leads to:
Delays in the you using the software to achieve your objectives

Huge demands on your team to learn how to use all these features in one go

You paying for software that you aren't using while lengthily onboarding takes place.
How much work will my business need to do?
Whether you choose to take on the majority of the onboarding yourself or lean on our team of experts, there will still be work and learning for you to do to ensure you know how to drive your portal once we hand over the keys.
It's worth bearing in mind that the more involved you are in your onboarding project, the quicker you will see value in your investment. HubSpot is not a hands-off software!
That said, our team are available to fill in the gaps where you need!
Talk to a HubSpot expert
Whether you're new to HubSpot or need help getting more value from the software, we can help.